Punta Molas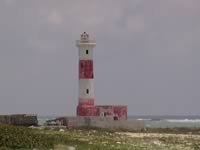 Punta Molas is the boundary that marks the northern end of the coast of the island of Cozumel, Quintana Roo, Mexico. On site there is an old lighthouse and some of the most beautiful beaches of the island of Cozumel. Accessed by a narrow unpaved road surrounded by tropical vegetation, passable all year.

Punta Molas is one of the most important places to visit in Cozumel, is one of those places where you can distinguish much of the Mexican coast of the Riviera Maya, the Lighthouse, the Tomb Caracol, who are in this place, and from where they are arriving cruise ships and yachts that come to the island.
The road is a bit complicated so it is recommended to have all-terrain trucks, at the end of the day will be the best experience I have lived since the end of the hard drive you will find the beautiful turquoise waters and white sand belonging to this part of the coast.
A mystical place where you can visit the Tomb Caracol, an archaeological site where beauty speaks for itself. From the lighthouse you can see the cruise ships and yachts arriving in the northern island of Cozumel Channel.
Formerly, it was from here that the Maya could see the arrival of large storms.
Hotels in Cozumel