Adhara Hacienda Cancún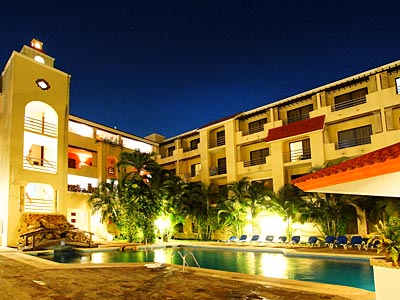 Hotel Adhara is a hacienda in the paradise of Cancun, where business executives will have the perfect balance between work and leisure trip journey. The colonial style architecture promotes relaxation and contrasts with the modern services.
The Adhara Cancun hotel colonial architecture is a Mexican-style hotel with modern facilities, also ideal for family vacations and rest for its near the beaches of Cancun and Isla Mujeres location.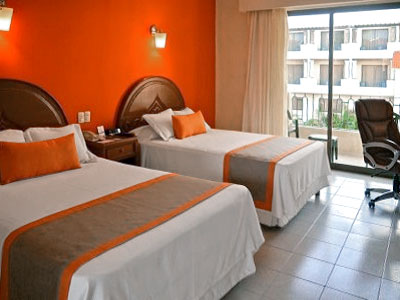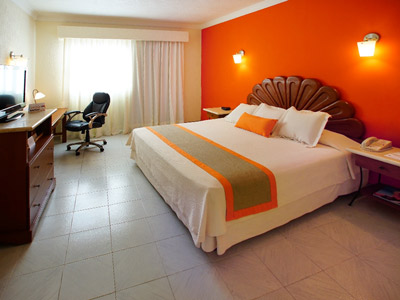 our rooms
173 Rooms
TV Cable TV
air conditioning
Double Beds or 1 King
wireless Internet
Safe-deposit box
Iron and Ironing basis
Clock Radio
Coffee maker with coffee
Hair Dryer
Vanity mirror
Work desk
Balcony or terrace
Restaurant
In a space with capacity for 104 people, large and comfortable, customers can enjoy the great variety of Mexican dishes at anytime.
In the morning offers an extensive buffet with traditional delicacies Mexico while options for those with lighter tastes and athletic.
During lunch and dinner foods are offered a la carte at the touch of Mexican specialties from all regions of the country.
In traditional Sunday brunch to delight guests and locals.
Snack bar "patio"
Located in the pool area, offers snacks and beverages, open from 10:00 to 17:00, and during the evening enjoy a music video in a lounge atmosphere.
Lobby bar
It is the meeting place to enjoy a refreshing drink are a specialty martinis
Open from 11:00 to 24 hours.
Room Service
For the privacy of your stay you can order your food from our extensive room service menu.
Available from 7:00 a.m. to 1:00 a.m.
Mexican Breakfast buffet
Food for international menu card
Dinner à la carte Mexican specialties
Av. Carlos Nader 1,2,3 SM. 1 MZ. 2
Cancún, Quintana Roo, México.CP.77500
The Adhara Cancun hotel is in downtown Cancun which is also the center of economic activity, with easy access to Tulum and Bonampak main routes into the city streets.
The Adhara Cancun hotel is located 25 minutes from the airport 5 minutes from the mall plaza las americas, marina and boardwalk boardwalk Americas Cancun also 5 minutes. From the hotel Adhara bus station is 600 meters, the pier Cancun 5 kilometers and pier port Juárez to cross to Isla Mujeres 3 miles
From the hotel's location Adhara have easy access to the market 28 craft market on Tulum Avenue, or the broad international cuisine with restaurants specializing in Mexican, Argentina, Italian food, among others.