Krystal Grand Punta Cancún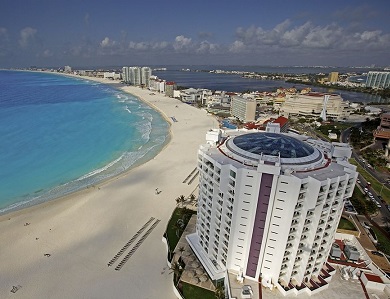 Krystal Grand Punta Cancun is located in what is known as Punta Cancun hotel zone and just a short walk from the touristic and commercial center of the destination. Just 9 kilometers from downtown Cancun and 11 from the international airport. Krystal Grand offers breathtaking views of the Lagoon and the Caribbean Sea, one of the best beaches in Cancun.
With a great location, Krystal Grand Punta Cancun is found just a few steps from the conventions center, shopping malls, restaurants, cultural attractions and the best nightlife of the city. Our resort has a unique location facing the ocean, with stunning views and an extensive and wonderful white sandy beach.
Ocean view, partial ocean view and/or lagoon view from a private balcony. Comfortable and spacious rooms are the reflection of a contemporary style hotel, decorated in soft, neutral and elegant colors that invites to relax. Options with king or two double beds.
In all rooms you will find the following services: bathrobes • hair dryer • mini bar • LCD TV Set • two telephones with speaker and phone in the bathroom • alarm clock CD/MP3 Player • • windows with access to the balcony • coffee maker • cable TV • voicemail • safety deposit box • lounge chair • individual controlled air-conditioning • room service 24 hours • bed added and/or baby cot on request • wireless Internet ($)
Rooms Hotel Krystal Grand Punta Cancún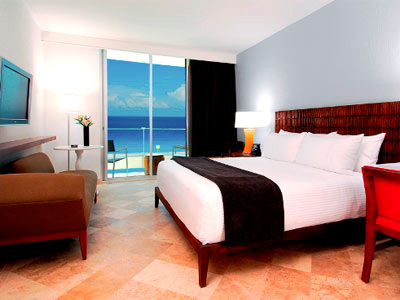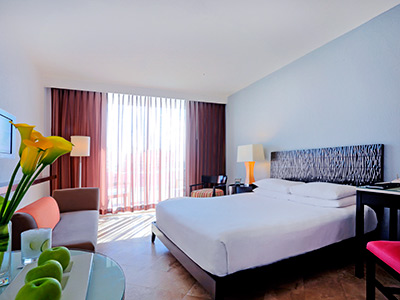 Deluxe Room
Rooms with choice of two double beds or king bed, 32 m² with view to the city or the Lake and a private balcony. Maximum capacity 3 adults or 2 adults plus 2 children.
Deluxe Oceanview
Choice of two double beds or king bed, 32 m² rooms with amazing view to the Caribbean Sea, private balcony. Maximum capacity 3 adults or 2 adults plus 2 children.
Altitude Lounge
The three highest levels of the hotel, featuring 63 guest rooms and Suites, a private lounge that offers a delicious continental breakfast, access to Internet, hors d'oeuvres and drinks evenings, warm and outstanding service during the day, registration exclusive to ALTITUDE guests.
Services
SPA
Located facing the Caribbean Sea in a unique and quiet location, the divine spa at our hotel in Cancun, offers services of world class in terms of facial treatments, massage therapy, body treatments, complemented with cosmetic services, all an integral concept of health, relaxation and beauty to make even more pleasant the stay of the guests in the hotel.
Offers a wide variety of massages such as relax or sport, designed to prevent sore muscles and relax them or massage with aromatherapy, which help remove toxins and fill the body with energy. Couples can enjoy a massage that will take you to share the feelings of well-being and balance.
The Beach House Spa at Krystal Grand Punta Cancun treatments are made especially to purify and moisturize the body using ingredients such as marine mud wrap algae or coffee, which helps lose weight and strengthen the body by its high content of minerals and antioxidants.
GYM
With a wonderful view of the Caribbean Sea, Krystal Grand Punta Cancun offers an equipped gym in the lower lobby of the hotel.
Get in shape and release the stress in the Life-Fitness devices as the cardio machines with plasma screens to keep you entertained and motivated while exercising. 
Our gym in Cancun also has a whole section of free weights, resistance machines and other accessories like stability balls and exercise mats.
THE GYM is located at the lower lobby level and is open every day of the week, 24 hours a day. It is free to all guests and is accessible through your room card.
Business Services.
For your convenience this hotel provides an office equipped with desk, printer and computer with Internet access (charge applies). This office is available upon request, by means of the receipt or via Concierge.
We have computers with Internet access and printing services available in The Deli (located in the main lobby) extra charges apply.
First class with all the necessary to make your stay most pleasant.
Krystal Grand Punta Cancun is characterized by having what is considered to be one of the best beaches in the area, Bali beds and palapas complement the experience of relax and recreation.
For comfort and convenience the hotel has with:
Swimming Pool divided by a waterfall
Concierge
24 Hours Room Service
Laundry y dry cleaning
24 Hours medical service
Free parking
Valet parking
ATM
Wedding and events coordinator.
Car Rental
Jewelry
Spa and beauty parlor
24 hours gym
Bali beds
Rental of water sports equipment
ALTITUD executive floor
Daily activities program
Bilingual staff
Safety deposit boxes
Ice machines in every floor
Bars and restaurants
Wheel chairs accesible rooms
Babysitting upon request
Travel agency
Meeting rooms
Airport-hotel-Airport transportation upon request (extra charge applies)
Desk with computer and Internet available at The Deli (extra charge applies)
Wireless Internet in guestrooms (extra charge applies)
Photo Gallery Hotel Krystal Grand Punta Cancún