Hotel Live Aqua Cancun All Inclusive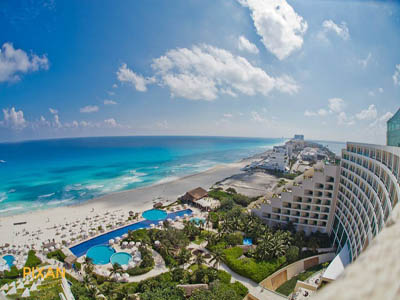 By Be yourself concept, Live Aqua gives guests the freedom to be themselves, without worrying about anything else because here you have everything. An all-inclusive hotel with all the luxuries you deserve, enjoy great moments in the pool and your favorite drink at the same time, and do not worry, our waiters will take her far is; water temperature not be a problem because here are eight pools with different temperatures.
Rooms Hotel Live Aqua Cancun All Inclusive
Indulge in every detail of your room, as all are equipped with ideal amenities to make your stay at Live Aqua an experience, enjoy beautiful views of the sea and splendid sea views.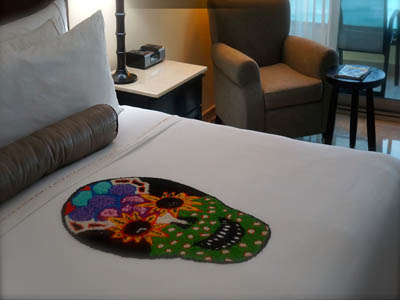 Deluxe Garden View.
Here you will find large windows that run from ceiling to floor in which you can observe the beautiful garden surroundings, sofa, table, comfortable beds, cable TV and internet access; the bathroom has a tub and separate shower and to provide greater relaxation gives you 5 options of aromatherapy.
Deluxe Ocean View.
Enjoy a wonderful sea view from your own balcony, rest covered with Egyptian cotton linens and relax in bubble bath with aromatherapy options and soaps.
Deluxe Ocean Front Balcony.
Imagine waking up and the first thing your eyes see is the Caribbean Sea, this happens every morning in the Deluxe Ocean Front, while inside magical smells of aromatherapy you choose will enjoy.
Deluxe Ocean Front Terrace.
These rooms will have the opportunity to observe the sea even closer, not only through his window, as they have a terrace with two lounge chairs where you can enjoy beautiful sunrises, also have internet access and cable TV.
Aqua Club Ocean Front.
For those wanting a more secluded time, here enjoy excellent sea views while reading a book or watching television, also has internet access. All suites have the opportunity to enjoy this space.
Aqua Suite.
The paradise without leaving your room, this room has two rooms and a terrace where the ocean view is splendid, while the interior a hydrotherapy tub awaits.
Suite Viento.
The wind flows through the two balconies of this room, two large windows that allow you to admire the beautiful landscape with the Caribbean Sea as the main stage and a Jacuzzi hydrotherapy to complement the experience.
Suite Fuego.
The ideal place to feel free, with a magnificent view of the Caribbean Sea, which you can enjoy from your private terrace, a living room and a Jacuzzi tub in the indoor area.
Suite Tierra.
You will feel more free, because it provides two separate spaces from which you can enjoy the spectacular ocean view with large windows it also offers a meeting room and King size bed in the master bedroom.
Sol & Luna Suite.
Also known as the Presidential Suite is the most complete suite , has 5 areas, equipped with modern amenities, plus a full bath that includes whirlpool, to watch TV, dining area and large windows around the entire suite overlooking the caribbean sea and the lagoon.
Facilities Hotel Live Aqua Cancun All Inclusive
Weddings. Feel free opportunity to say yes to witness the Mexican Caribbean, Live Aqua wish to be your accomplice in that great moment, let us take care of everything for your big day.
Spa. Rejuvenate body and soul through various treatments and massages that the spa of this hotel offers you relieve stress and be pampered by the expert hands of our masseuses.
Pools. In Live Aqua you will find eight pools from which you can choose the one that suits you because everyone is at a different temperature.
Restaurants and Bars
Thinking about your satisfaction, Live Aqua offers several restaurants and bars with different specialties, ready to satisfy the most demanding palate:
Azur Restaurant. It is located in the pool area, with cutting-edge Mediterranean cuisine and some recipes, you can enjoy ceviches, snacks and buffet.
Seven Restaurant. A Mexican restaurant style but decorated with elements that refer to pop art and Mexican art.
Restaurant MB. Dinner based on Latin American cuisine but with touches and Mexican ingredients in a chic style.
Hidden Garden Restaurant. Ideal for an intimate and quiet evening, with the leading flavors of the East, an unusual dinner awaits you here, where mysticism is the main host.
Restaurant Varenna. A cool corner of Italy in the Caribbean, enjoy the shade of a cool tree and the sea as the first passenger, delicious pastas, paninis, salads and pizzas made ​​in a wood oven.
Bar Aka. In the midst of a New York atmosphere, this bar invites you to taste the best wines and tequilas, including national drinks.
Egos Bar. Ideal to feel free, where energy and sensuality are present, set to house music and accompanied by national and international drinks.
Pool Club. With national and international drinks, is the perfect place to relax by the pool complement entertained by a DJ, the best moments are lived here during the day.
Sea Corner. Ceviches, tacos and cocktails a few steps from the beach, just follow the sandy road to get to this site, the caribbean sea front and the freshest seafood and delicious Live Aqua.
Sushi Station. Sushi, sushi and more sushi in various presentations and varieties also have the option here to savor unlimited couches or sit at the bar to enjoy peacefully.
Café Deli Boutique. A place to ignore the world, sit on the terrace to enjoy a delicious coffee, accompanied by a dessert panini, croissant, baguette or crackers, you can also order them to go or if you wish to visit teatime.
Inlaa'Kech Lobster & Grill. A place designed for a romantic dinner, half light, amidst the greenery and delicious cuts or grilled Caribbean lobster, do not forget to try one of several flambe desserts, prepared in front of you or specialty pastry chef.


Location Hotel Live Aqua Cancun All Inclusive
Live Aqua Cancun is located on Boulevard Kukulcan, in the hotel zone at Km 12.5
Photo Gallery Hotel Live Aqua Cancun All Inclusive