NYX Hotel Cancun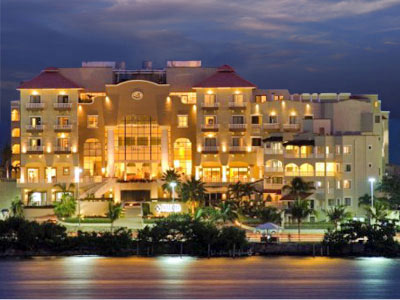 This newly renovated 4-star resort is really huge. Located on a stretch of 14 kilometers of pristine beach, The NYX Cancun signal overlooking the sparkling Caribbean Sea, offers travelers an amazing variety of vacation options.
Rooms NYX Hotel Cancun
With 116 deluxe rooms and suites, the NYX Cancun combines comfortable accommodation. In each of its room's offers:
Television
Safe
Coffee maker (with coffee)
Iron and ironing board
Toiletries kit
Facilities NYX Hotel Cancun
As part of its services, the NYX Cancun offers:
Outdoor pool
Children's pool
Outdoor Jacuzzi
Spa & Fitness Center
Room service (24 hours)
Daily Activities
Medical services (on call)
Laundry and dry cleaning
3 restaurants
3 bars
Golf
Location NYX Hotel Cancun
Located on a stretch of 14 miles of white sandy beach in the heart of Cancun's hotel zone, the famous, this resort is intimate and welcoming close to some of the most popular restaurants, nightclubs and shops in the area.

Photo Gallery NYX Hotel Cancun