Temptation Resort and Spa Cancún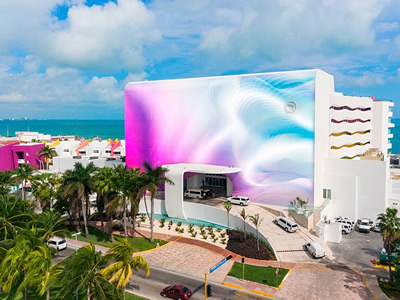 Experience up close and personal, our unique, one-of-a-kind "Playground for Grown-Ups", 21+. Brace yourself for a whole new level of electrifying, adult vacationing! While playing at our adult-centric, superior all-inclusive, topless-optional areas, you will enjoy a sense of freedom and empowerment you never knew existed, and not to mention an insanely sexy amount of fun.
Karim Rashid, the creator of "sensual minimalism", concept inspired by the human body, has redefined Cancun's skyline with a spectacular, seven-story, 430 room superstructure full of sensual curves and bright colors, stimulating you with a sensual vibe throughout the entire property.
You will find yourself being seduced by all that our unique, signature playgrounds have to offer. Try something new, something you have never experienced before, go topless! You won't have to worry about poorly fitting bathing suit tops and funny tan lines ever again when living your topless-optional dream, at the most provocative open-minded beach in the Caribbean. Throughout the day feel the electrical currents pulsate through your body at our electrifying "Sexy Pool", or join us at "Bash", a high-energy hotspot with riveting, nightly entertainment.
Rooms Hotel Temptation Resort and Spa Cancun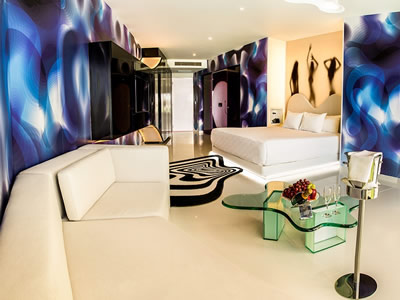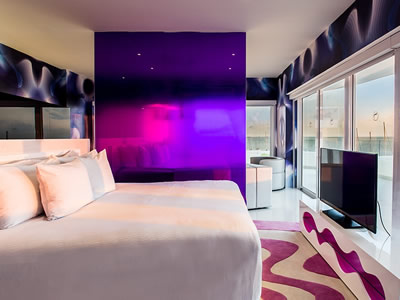 Lose yourself in an explosion of bright colors and smooth textures, fused with long lines and soft curves, that simulate the natural beauty and sensuality of the human body through abstract art. Relax & rejuvenate as you feel the warm Caribbean breeze on your spacious balcony or terrace while admiring the breathtaking sunset. These sensual spaces have been carefully created to complement our unique guest experience, for the free-spirited traveler.
Live the magic of waking up in one of 430 magnificent rooms & suites, 109 of which are ideally located in THE TOWER BY TEMPTATION, our newest addition to the property, inspired by world-renowned designer, Karim Rashid.
What's Included
A unique concept for guests 21+
That caters to adults only (21+), offering a vibrant and passion-infused, topless-optional environment with spicy entertainment.
430 Deluxe Accommodations & Suites
Designed by the renowned creator of "sensual minimalism", designer Karim Rashid.
Riveting daytime activities
Exclusive, sensual, adult-centric entertainment program designed to satisfy all.
Spicy nightly entertainment
Spicy Signature Theme Nights, Pumping Parties hosted by Headliners, Resident DJ's & Live Musicians, Custom Shows & Performances.
Two swimming pools
Join us at the "Sexy Pool", for a guaranteed posh, provocative & pumping poolside experience, or the "Quiet Pool", our peaceful aquatic oasis.
Round the clock meal service including:
Seven specialized restaurants plus a gourmet café.
Room Service
24-Hour room service for an additional fee.
24-hour domestic & international brand alcoholic and non-alcoholic beverage service
Six different bars, where you can meet, mix & mingle in a vigorous and exciting atmosphere.
Fitness Center
Workout in our sophisticated, state-of-the-art fitness center.
Free Wi-Fi (Limited Access)
All taxes and gratuities are included