Restaurants Isla Mujeres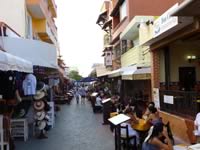 Restaurants in Isla Mujeres are part of the appeal of this destination for the splendid range of flavors and the pleasant atmosphere of its premises, which are mixed to offer a tempting variety of choices that please all palates and tastes. Culinary specialties of the region have seafood as essential ingredients and seasoned with spices like achiote typical or the intense habanero peper In many places you can experience authentic European and Asiatic dishes made with excellent quality. al.
They are the invaluable contribution to the diverse cuisine of Isla Mujeres, of those who once were occasional visitors and eventually chose this paradise for filing and settling.
Some of the restaurants that you can find in this beautiful island, are:
Owl's: Restaurant by the sea, where you can enjoy delicious international cuisine prepared with the passion of the Caribbean. Adjoining bar with casual and fun. Breakfast, lunch and dinner. Located next to the Hotel Cabanas Maria del Mar.
Bistro Francais: The Bistro is a lovely restaurant with reasonable prices and a colorful atmosphere. Breakfast and dinner. Located on Avenida Matamoros.
Brisas del Caribe: Specializes in seafood and Mexican dishes, is located near the pier. Lunch and dinner. In Av Rueda Medina. • Buccaneers: Offers a variety of Mexican dishes, pastas and pizzas. Breakfast, lunch and dinner. In Av Hidalgo.
Café Cito: Best waffles on the island and a very special atmosphere. Breakfast and dinner. Located on Avenida Matamoros.
Café El Nopalito: A wonderful restaurant with natural foods. Nopalito offers homemade bread and is a great place to sit and talk. Lunch and breakfast. is located in Guerrero Avenue. • Blue House: restaurant overlooking the Caribbean Sea. Lunch.
Casa O's: Fine dining in a romantic atmosphere. Located on the south end of the island, Garrafón way. Open daily from 5 P.M. It is located in Punta Sur.
Casa Rolandi: It stands for culinary tradition in Cancun and Isla Mujeres, exquisite cuisine Switzerland and Northern Italy. Romantic and refined. Adjoining bar with beautiful ocean views. Breakfast, lunch and dinner. Located in the Hotel Villa Rolandi Gourmet & Beach Club.
Chiles Locos: Lunch and dinner. In Av Hidalgo Plaza Isla Mujeres.
Don Chepo: Grilled Mexican cuisine. Lunch and dinner. Located on Avenida Hidalgo.
The upstairs balcony: Lovely restaurant, specializing in "tikinxic". Lunch and dinner. Located on Avenida Hidalgo.
El Pueblito: Outdoor restaurant with snack bar. Open daily from 8:30 A.M. until 5:30 P.M. Snacks. It is located in Punta Sur.
The sombrero de Gomar: typical Mexican restaurant with a lively atmosphere, good service and fresh seafood grilled. Lunch and dinner.Located in Hidalgo Ave
Fredy's: Family restaurant with wonderful menu of Yucatecan and Mexican dishes. Lunch and dinner. Located on Avenida Hidalgo.
Galars: Traditional Mexican restaurant located next to Vistalmar hotel with a great view of the bay and fishing boats. Breakfast and lunch. In Av Rueda Medina.
La Cazuela M & J: A very popular restaurant for tourists and locals. Breakfast and lunch. Bravo Avenue, beside the Hotel Roca Mar.
The Malquerida: is located between Av Hidalgo and Matamoros.
The Mexican Rotisserie: The roasted and grilled chicken served with rice. Lunch. Av Guerrero is located in No. 4.
La Palapa del Huinic: restaurant at the side of the pool Cristalmar Hotel beach club. International cuisine with Caribbean flavor. Breakfast, lunch and dinner.
Friends: The Friends menu specializes in Mexican and vegetarian dishes. Breakfast, lunch and dinner. In Av Hidalgo.
Gateways: Mexican cuisine with Caribbean flavor. Lunch and dinner. Located in Juarez Ave.
Manolo's: seafood specialties and Mexican cuisine. Dinner. Located on Avenida Juárez.
Maria's Kan Kin: Famous for its lobster and sunsets. Lunch and dinner. Close to the Jug.
Penguin's: Great menu featuring fresh seafood and Mexican dishes. Breakfast, lunch and dinner. Located inside the Hotel Posada del Mar.
Pizza Rolandis: Famous for its pizzas and bread cooked in the oven, is a favorite with visitors. Lunch and dinner. Hidalgo is located in Av.
Pizza Rock: Lunch and dinner. In Hidalgo Avenue, Plaza Isla Mujeres.
Rotisserie Plaza: Roasted chicken, fresh and delicious. Hidalgo Avenue, Plaza Isla Mujeres
Playa Lancheros: Favourite by local tourists and Isla Mujeres, famous for the fish "tikinxic" of the island. Lunch and dinner. Located in Playa Lancheros.
Sunset Grill: Located in North Beach Condos Nautibeach off. Breakfast, lunch and dinner.
Taqueria Medina: The best tacos in the city, favorite place of locals and tourists. Open all day. In Av Hidalgo.
Tonyno's: Delicious Italian cuisine. Lunch and dinner. Located on Avenida Hidalgo.
Velazquez: Excellent seafood menu. Lunch and dinner. Is located on Avenida Rueda Medina.
Zazil-Ha: Enjoy a pleasant evening in an authentic atmosphere with unique Mayan cuisine and vegetarian specialties merged maya. Live music Fridays and Saturdays. Breakfast, lunch and dinner. Inside the Hotel Na Balam
Do not wait, book your hotel now in Isla Mujeres