Sr. Frog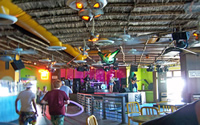 Sr Frogs Playa del Carmen is one of the most popular restaurants in this city for those who love the party time.
It is located just beside the ferry dock to go to Cozumel, facing the sea

Sr Frogs is owned by the firm that has the restaurants Carlos and Charlies and offers Mexican food all day, a wide variety of drinks and Mexican beers and some nights with live music.

It is the preferred place for young people and adults who love the party too.

Do not wait, book your hotel now in Playa del Carmen