Hotel Villas Arqueologicas
Surrounded by tropical gardens and topped with the singing of exotic birds, the cozy Hotel Chichen Itza Villas provides an idyllic setting and an oasis for weary guests after exploring the ancient Mayan city. The 45 rooms overlook the gardens inviting swimming pool accented by a Mayan statues.
The rooms and public spaces at the Hotel Villa Chichen Itza Archaeological native are decorated with ceramic tiled floor and open arches. Original Mayan ruins dot the gardens of the hotel in Chichen Itza with a sense of authenticity that is impossible to duplicate. At Chichen Itza Villas you will receive exceptional service and enjoy the most delicious regional cuisine. It is a pleasure to work and serve our guests with the quality that ensures your complete satisfaction.
Rooms Hotel Villas Arqueologicas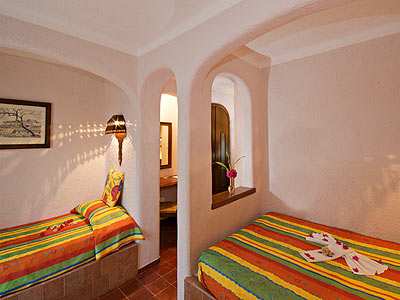 The 42 standard rooms of our Hotel in Chichen Itza, are equipped and beautifully decorated in traditional Mexican style, offering all the services necessary for a truly enjoyable stay in a stunning natural environment. Each standard room offers a double bed and single bed, 76 square feet of space overlooking the lush gardens, air conditioning, electronic safe, hair dryer. Maximum room capacity is 3 persons standard, up to 2 children sharing with 1 adult. Each room has beds with brightly colored blankets, in a traditional Mexican style.
Facilities Hotel Villas Arqueologicas
Besides a place to rest, our
Chichen Itza Hotel Villas
offers the following facilities and amenities for the benefit of our guests:
Pool: In the midst of lush vegetation, surrounded by cushioned lounge chairs, ideal for relaxing with a sun bath or enjoy a refreshing dip or simply take advantage of quality time with your family.
WiFi: wireless Internet in designated areas only.
Library: With an overview of the region and about the archaeological zone of
Chichén Itzá
.
TV Room: Also includes a pool table to enjoy some entertainment in the hotel.
Tennis Court: We have the ideal facilities available for you to play.
This hotel also offers Massage Therapy, Spa, Mayan healing massage, boutique, laundry service, computer and printing services. These, at additional cost.
Location Hotel Villas Arqueologicas
Chichen Itza Archaeological Villas are located in a beautiful area of lush vegetation within easy walking distance of the recently acclaimed seventh wonder of the world.
Chichen Itza Villas
is located at the rear entrance of the archaeological site, within a small enclave of three hotels. A tour of the Hotel Chichen Itza ruins takes less than ten minutes.
Photo GalleryHotel Villas Arqueologicas