The word "cenote" is derived from the Mayan word "Dzonot" which means sacred well. A combination of geological and climatic changes have created an incredible and unique ecosystem in the Yucatan Peninsula in Mexico. These caves and underground rivers have formed naturally more than 6,500 years ago. In the past 20 years, experienced scuba divers have explored the caves to discover more than 300 miles of interconnected passageways and caves that make this incredible ecosystem. These cenotes, only found in this part of the world, offer certified divers the opportunity to explore something different.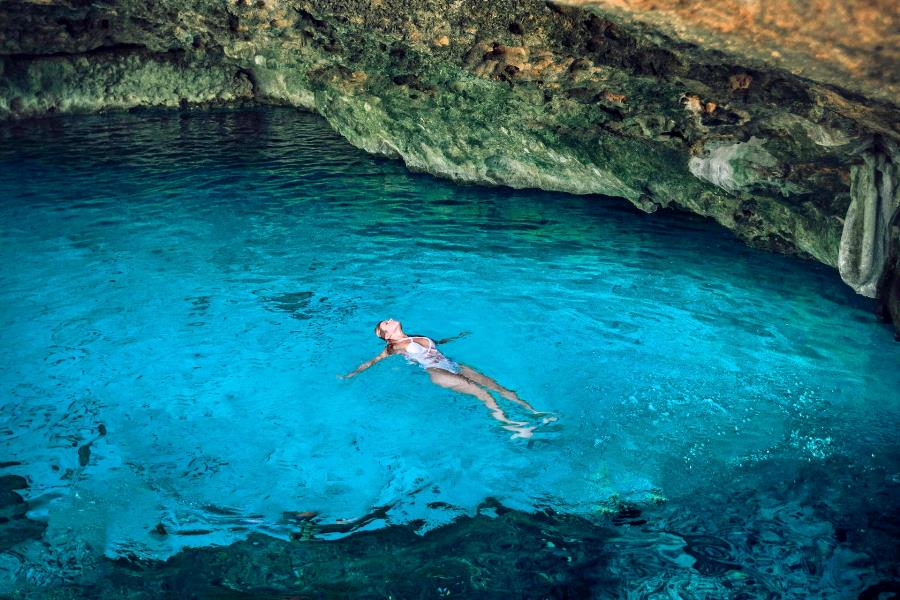 Discover the tranquil beauty of these windows virgins underwater world and experience the dive of your life floating through caverns full of crystal clear water, stalagmites and stalactites. The Cenote Dos Ojos, whose name is due to 2 cenotes are joined together by short caves, pretending to be two eyes, its located on highway 307 of Quintana Roo which connects Playa del Carmen with Tulum. Dos Ojos is a flooded cave system located south of Playa del Carmen and north of Tulum on the Caribbean coast in the state of Quintana Roo, Mexico.
Exploration of Two Eyes began in 1986 and has never stopped since. The documented underwater extend the cave is at least 61 km. It has a depth of 17 meters and is considered one of the cenotes in the underground caverns longer. The water is turquoise, where dwells a lot of amazing marine life, surrounded by ancient stalactites and stalagmites. It is easily accessible thanks to the wooden platform was built at the entrance. Because of the clear water offers unlimited visibility, so that will feel like flying inside the vault, allowing you to admire their beauty completely under water, this being one of the main features of this cenote. It has several holes on the surface of the cavern, into which the sun's rays, forming an incredible reflection in the water, which gives one of the best views of the cenote.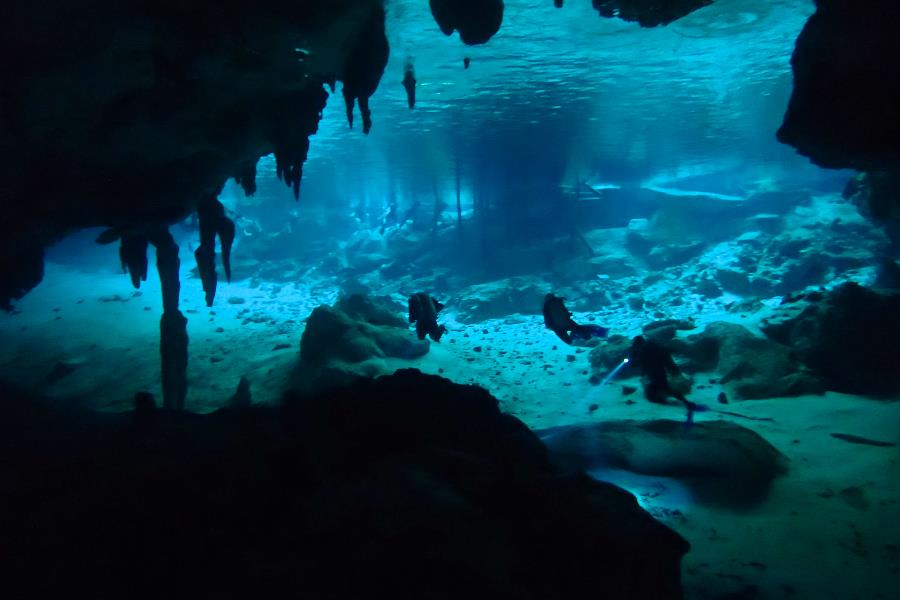 Two Eyes invites you to refresh yourself in its beautiful waters, this is an ideal for diving and cenote snórquel.Swim between the amazing play of light and colors that are created here, making this an unforgettable experience. Divers can admire rock formations, fossils of fish, snails, sea shells and coral embedded in some rocks, faithful witnesses to the entire Yucatan peninsula was once submerged for millions of years. To access another cenote, you must enter through a small space of the cave underwater.
Dos Ojos is kept in the top 10 longest cave systems in the world under water. It also contains the passage of the known deepest cave in Quintana Roo, with 118 meters / 396 feet deep located at the mouth Cenote.