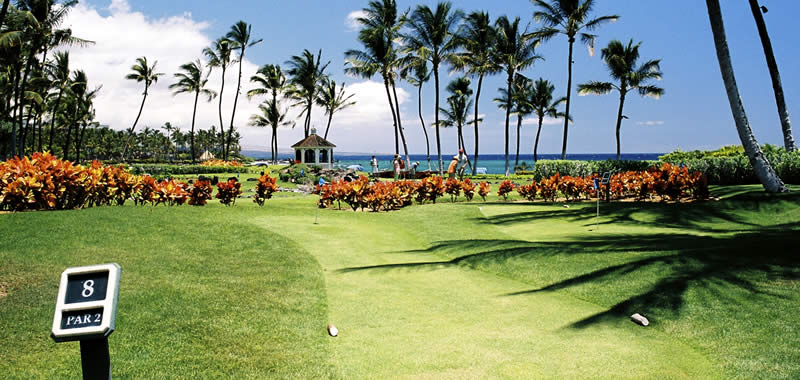 The Riviera Maya offers a wide range of activities for all ages and all tastes, that's why, thinking in the satisfaction of  golfers, many designers have taken on the task of providing visitors the most exclusive golf amid beautiful landscapes, most of them are within the most prestigious hotels in the area, as Mayakobá and Iberostar.

The Chameleon. This field is in the Mayakobá hotel, known as the Chameleon due to the contrasting views  presented, ranging from mangrove jungle and sea. Designed by Greg Norman, has 18 holes par 72, has emerged as the most important in the área.
Its located only 10 minutes from Playa del Carmen.

The Mangrove Golf Course. An 18 hole camp , with beautiful lakes and trees. It is in the federal Puerto Morelos-Playa del Carmen road.
Grand Coral Golf Riviera Maya. This field is on the road to Puerto Juarez, and was designed by Nick Price, who placed this space in the middle of the Mayan jungle, with 18 holes , one of the most precious in the Riviera Maya.

Iberostar Playa Paraiso Golf Club. It lies within the Iberostar resort, offering the most stunning landscapes in addition to peculiar hosts, because when being in the jungle, we can see many native animals and striking elevation changes.

Puerto Aventuras Resort Course. One of the most exciting fields in the Riviera Maya, consisting of 36 holes that will test your skill, no doubt. Designed by Thomas Leman, located on the highway Chetumal - Cancun in Puerto Aventuras 15  minutes from Playa del Carmen
Riviera Maya Golf Club. As part of the facilities that the Bahia Principe hotel offers is a wonderful golf course with 27 holes, plus one plus one 9 and practices. The three together are called Rviera Maya Golf Club.

The Golf Club at Playacar. Surrounded by archaeological ruins, cenotes and jungle, this field is listed as one of the most challenging, with undulating fairways and 18 holes . It is located in the exclusive area of Playacar in Playa del Carmen.