Xcaret, a word and a place, synonymous with paradise. A place where natural beauty, culture and the richness of tradition are carefully and wisely blended through each and every one of its extraordinary attractions.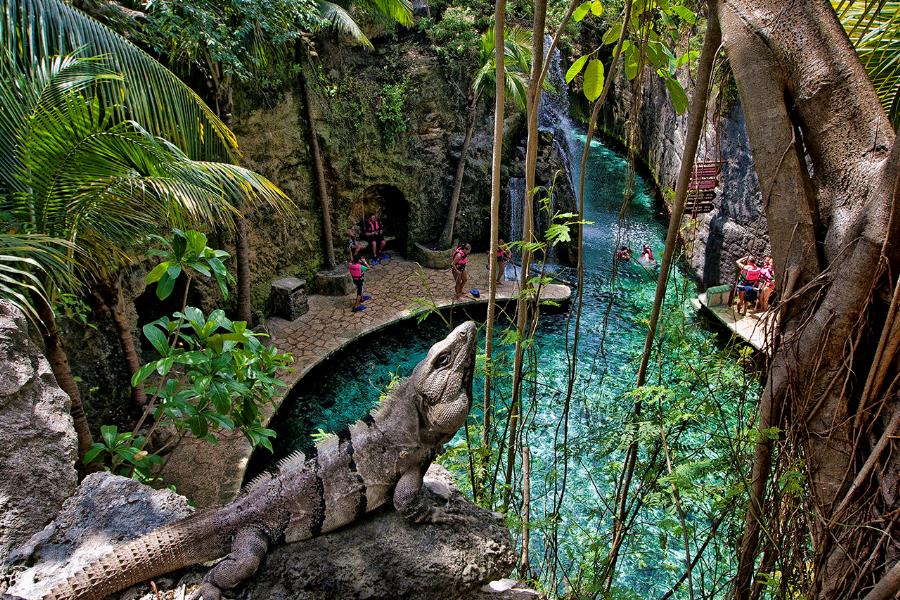 Xcaret is a complete life experience that deserves to be discovered little by little, bit by bit. slowly with no haste. This beautiful place is built on the site of the ancient Mayan port of Polé and it is spectacularly framed by the turquoise waters of the Caribbean Sea and the richness of the tropical jungle. Xcaret was created to encourage its visitors to respectfully and in harmony enjoy the richness that Mother Earth has to offer as well as the cultural inheritance of the Mayan world, stimulating a profound love for nature and the environment through a knowledgeable and direct, hand to hand experience that helps to restore a measure of value and a real sense to the world we belong to.
Here visitors will become familiar with the Mayas through the exploration of different archaeological findings at the museum which features on scale replicas of the most important cities of this ancient and incredible culture. The world's famous and unique underground rivers of Xcaret allow a marvelous experience of swimmers who float on their quiet and crystalline waters, which are born in a natural stream located six meters under the earth among coral formations that many thousands of years ago were part of the sea.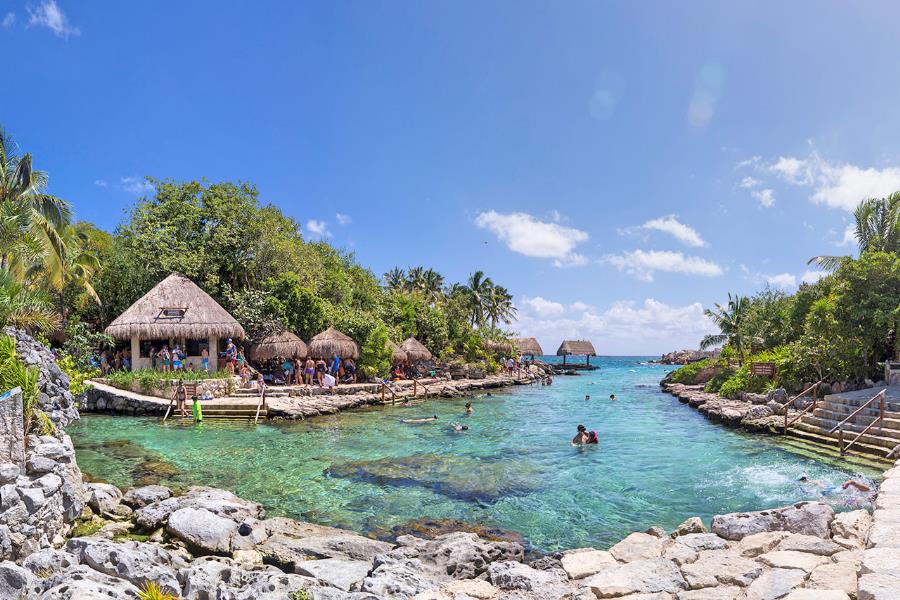 Thousands of multicolor fish have made their home in the Xcaret inlet where they become the fascination of snorkelers. Its beaches of soft white sand and its relaxed and casual like atmosphere are an open invitation for rest and fun, while a few steps away, the "Palapa", a water sports activity center offers special tour for diving ,"Sea Trecking" (an incredible experience where you literally hike under the sea), and Snuba.
Would you like to swim with dolphins? Xcaret offers this unforgettable experience that is well worth sharing with these incredible and mystical creatures. Xcaret has 2 dolphin aquariums that offer 3 different interactive programs with educational and swimming activities that allow participants to learn about dolphins, their habitat and their influence on human beings.
The wild bird breeding Aviary with over 37 species of birds, many of them endanger species are preserved here, where Xcaret´s breeding program has successfully reproduced, some of them like: the red macaw, the Mexican pink flamingo and most recently the royal toucan. At the butterfly pavilion it is possible to see the complete life cycle of these beautiful insects, while visitors can appreciate a large quantity of them in free and graceful flight in one of the largest pavilions in the world with 4,000 butterflies born each month. At the botanic garden, 118,000 plants and native trees can be seen in their natural state.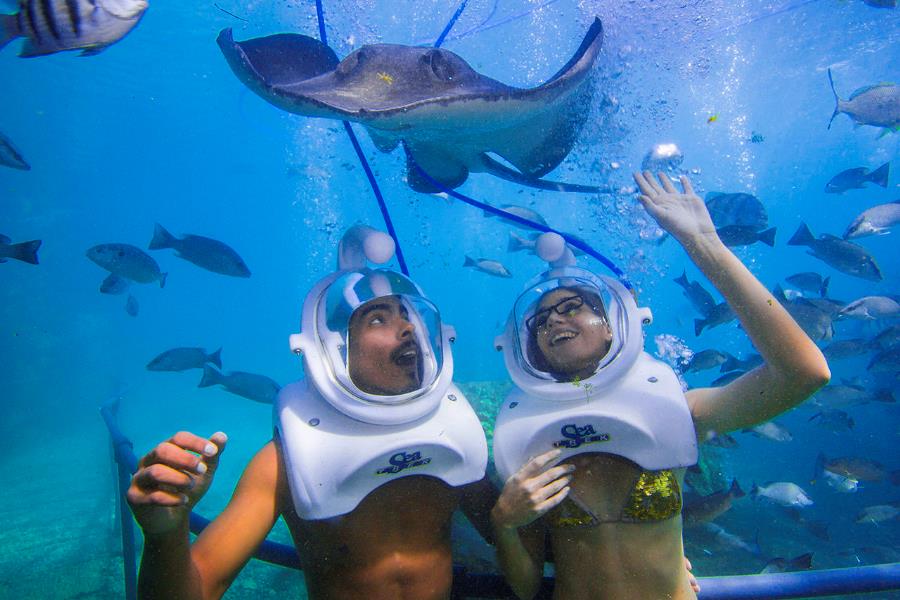 Xcaret also has a mushroom and an orchid farm as well as the One-of-a-kind reef aquarium where fish of marvelous colors can be admired in a fascinating habitat of natural coral reefs and marine plants. The park protects exhibits and sets free every year around 220 thousand baby sea turtles. Yet Xcaret´s wild life is completed by the many different species of monkeys, jaguars and many other native mammals as well as beautiful horses which are kept in specialized riding stables that offer jungle and beach horse back rides as well as a rodeo show (charrería) and traditional sets as the Mexican Corner and the Aroma Valley that serve as a presentation for the great Xcaret Spectacular Night Show.
XCARET Spectacular Night Show
When the day light fails and nightfall settles down, Xcaret is completely transformed, the air comes alive bringing scents of the past, the fragrant smokes of copal and incense charge the atmosphere with mysticism, tradition, legends and history beginning a fascinating trip through time that finds its highest peak at the Great Tlachco, a spectacular hall with capacity for 6 thousand people, the place where the spectacular Xcaret night show is carried out. It is an experience for all your senses.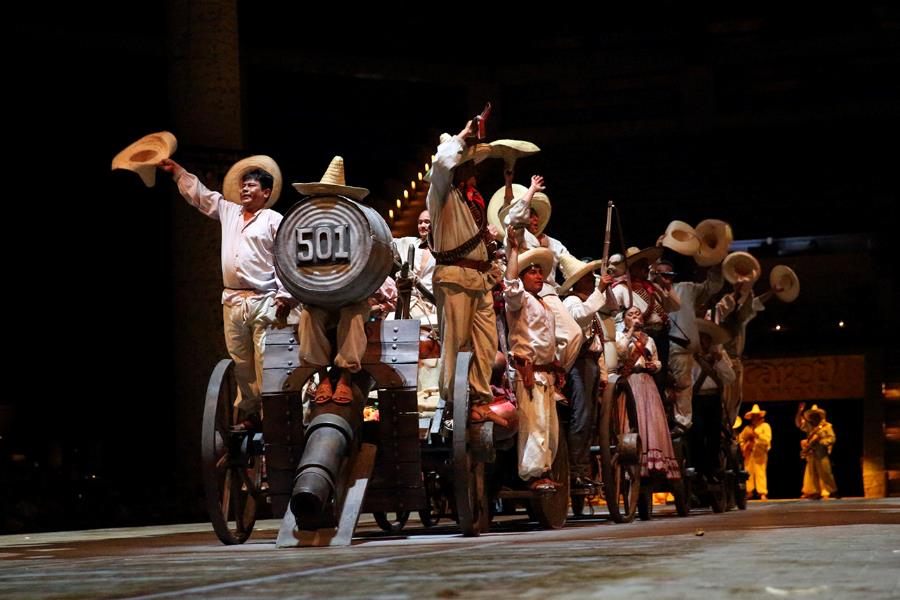 An epic celebration with the sights and sounds of a grand festival set in México´s golden years, the splendor of Mayan Kings, the drama of the ball game a live representation of one of the most important religious and mystic event of the Mayan culture and the Ball of fire where the fire passes from one hand to the other, while the "Ceremony of the New Fire" holds captive anyone who has the privilege of participating in it, followed by an unforgettable gala performance of Mexico's regional music and dance. Over 200 performers in an unforgettable night where the wild and frantic rhythm of pre-Hispanic drums allow visitors to live the experience of a colorful kaleidoscope of folkloric displays that literally let expectators fell essence of Mexico running under their skin. There is always something new to offer, Xcaret´s eco archeological park is without a doubt, the last frontier, a complete paradise waiting to be discovered.